tequila & mezcal
private label program
Put your brand on the top shelf by creating your own Tequila, Mezcal or RTD Private Label with your brand personality and take an exciting business opportunity.
Put your brand on the top shelf by creating your own Tequila, Mezcal or RTD Private Label with your brand personality and take an exciting business opportunity.
As Private Label manufacturers, we provide you complete solutions and a very personal attention for a cost-effective way to produce your Mexican Agave Spirits, without investing in new facilities. You have the control to determine a profitable final product cost due to our adaptability to response speedily to a big scale production or any requirement in your product features as your consumers demand it.
Whether your brand is just starting out or already positioned in any industry such as hospitality, gastronomy, nightlife, spirits trading and distribution, let it speak for itself with a premium product that highlight your unique signature.
Get your Agave Spirits Private Label
Make a selection from our premium award-winning range of Tequila and Mezcal with the utmost complexity and top-quality flavors and dress your product from a wide catalogue of premium glass bottles, labels and bottle caps.
We ensure that your customizations are executed impeccably. Our experts have spent plentiful time searching for the best packaging materials to satisfy global market expectations.
We manage the full procedures to link your brand to Tequila and Mezcal denominations of origin protected by Mexican Law, so your product is supported by certificates of origin and official authorizations to be exported worldwide.
Our Private Label Program provides you all the production facilities of your Tequila, Mezcal or Ready to Drink product according to your needs with a very personal attention during the process. We are experts in the traditional mexican spirits industry, assuring a great business opportunity that fits your goals.
Our team is prepared to guide you during the shipping, export and import of your Mexican drinks in a cost-effective way.
Your ideas come to life into a 100% Agave Tequila, fully customized for you and your brand.
Your own 100% customized Mezcal brand from the traditional Oaxaca state.
A cost-effective way to produce your own Tequila or Mezcal cocktail conveniently canned and ready to drink.
Immediate Availability of a wide range of premium Tequila.
Start creating your own private label
Our expert team partner with you through the process of creating your original brand providing all the possibilities, with a very personal attention and a wide variety of services to make your ideas come true.
branding and packaging design
Our marketing expert team is specialized in Agave Spirits branding and design that reflects your personality.
We help you during all the process of registering your new brand in your country, label and packaging requirements, brand registration in Mexico and «Tequila» / «Mezcal» words usage rights.
export and import advising
We provide you assistance during the process 'door to door' to ensure your product reaches your target market in a cost-effective way.
TEQUILA, MEZCAL AND RTD's MANUFACTURING
Our experience distilling agave and an expert formulation laboratory let us adapt to every market needs.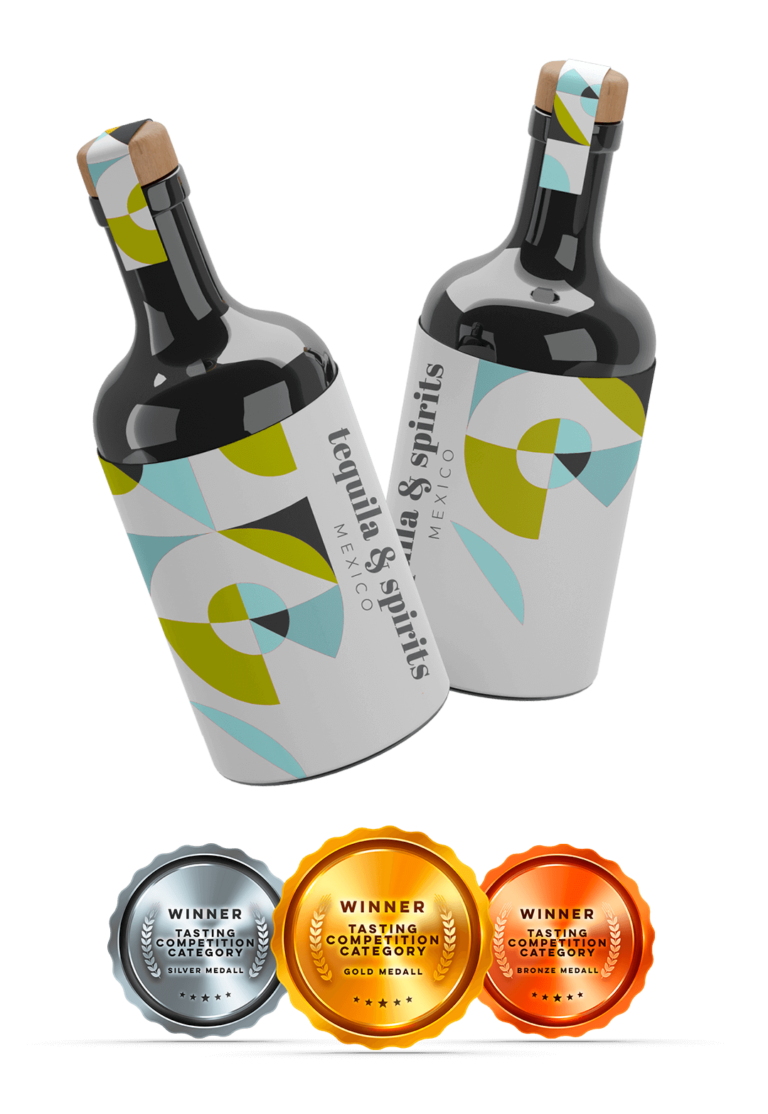 premium award-winning quality
Our experienced Master Distillers have created a wide range of premium award-winning Tequila and Mezcal profiles with the utmost quality and complexity.
Create your own brand using a combination of these premium profiles, working along with our Master Distillers assuring a superior quality product for your brand.
We are your business partners strategically located to have at hand the necessary facilities for you to customize your brand with a competitive pricing and outstanding quality with a day-to-day follow-up, from beginning to end.