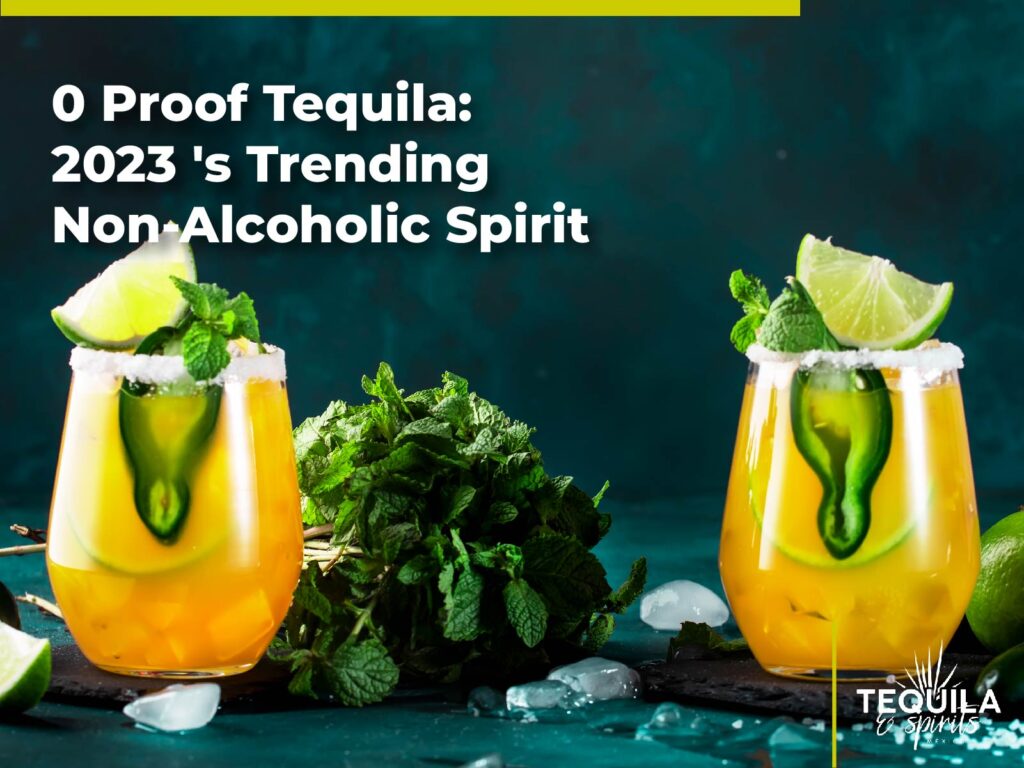 0 proof tequila is quickly becoming a notable trend in the beverage industry. This alcohol-free spirit is gaining popularity as consumers are increasingly seeking healthier alternatives to traditional alcoholic drinks.
Today, we will delve into the factors that are driving the 0 proof tequila trend, uncover the appeal of crafting your own non-alcoholic spirit, and understand how Tequila and Spirits Mexico seamlessly integrates tradition and innovation to guide enthusiasts on this exciting journey.
The Statistics Behind the 0 Proof Tequila Trending
Understanding the market pulse is crucial to appreciating the surge in 0 proof tequila's popularity. According to Allied Market Research, the global non-alcoholic spirits market is poised for substantial growth, projecting a compound annual growth rate (CAGR) of roughly 8.7% from 2022 to 2031. This expansion reflects a broader shift in consumer preferences towards healthier, alcohol-free alternatives.
A recent study uncovered a notable uptick in the sales of non-alcoholic spirits during the pandemic, with a discernible spike in the demand for tequila alternatives. This data underscores a growing consumer consciousness, where individuals are opting for beverages that align with their health and wellness goals without compromising on the nuanced flavors they cherish.
The 8.7 percent CAGR projection is more than just a statistical forecast; it reflects a shift in lifestyle preferences. This influx isn't just about abstaining from alcohol; it's also about embracing a new, vibrant drinking culture. As consumers seek alternatives that reflect their changing values, 0 proof tequila emerges as a frontrunner in this exciting beverage revolution, representing a harmonious blend of health, flavor, and cultural resonance.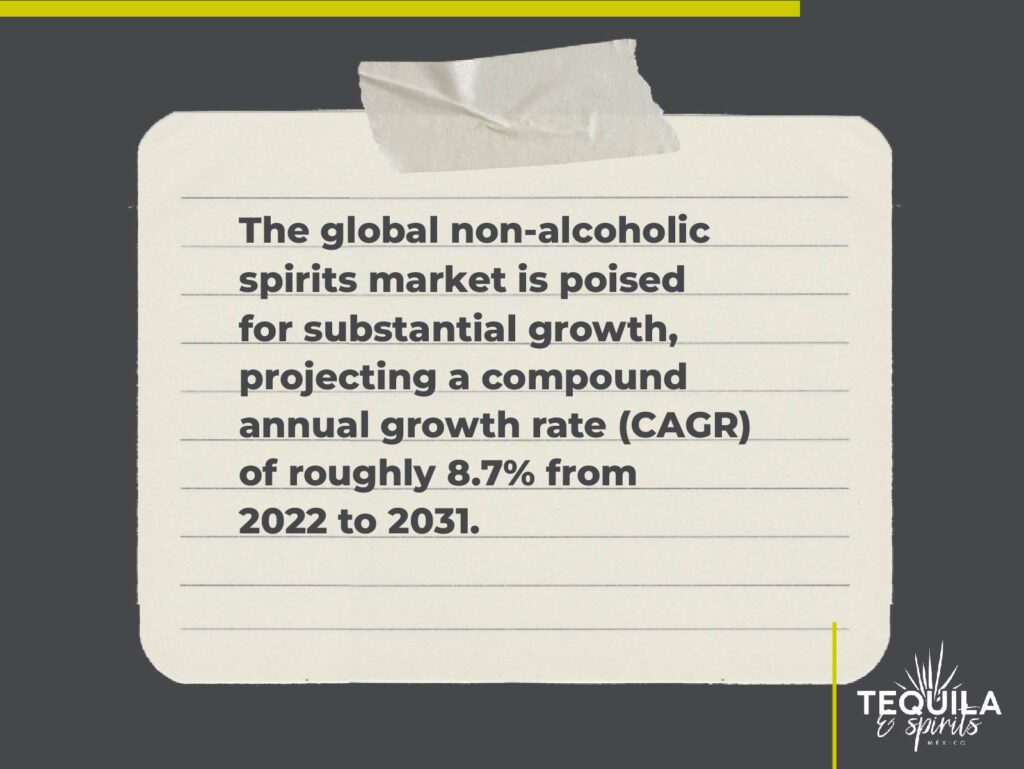 Crafting Your Own 0 Proof Tequila Label
As the 0 proof tequila wave sweeps the beverage landscape, enthusiasts are more than just consumers; they're also creators. Here, we delve into the allure of designing your own 0 proof tequila label, where each sip tells a story tailored to individual tastes.
The Appeal of Personalization
At the core of the ascent of 0 proof tequila is the quest for a beverage surpassing the conventional. Forming your personal label provides the autonomy to refine the flavor profile precisely to your preferences.
Picture exploring mixtures of sweet agave nectar, citrus zest, and spices, fashioning a beverage distinctly attuned to your taste buds and personal preferences. This degree of personalization not only gratifies an individual palate but also aligns with the market's growing inclination toward distinctive and high-end experiences. It allows you to bottle the taste of your brand in a rising trend.
Health at the Forefront
Post-pandemic well-being is a top priority; the creation of non-alcoholic tequila allows you to choose natural, organic ingredients, steering clear of additives and preservatives. Your investment in this venture represents a commitment to providing consumers with a beverage that not only tastes good but also supports their health and wellness goals.
Rising Return on Investment
Beyond personal satisfaction, establishing your own 0 proof tequila label becomes an economical and sustainable venture, thanks to services provided by companies like Tequila & Spirits Mexico (TSM). Although there may be an initial investment in ingredients, the need for personal equipment is alleviated with the assistance of TSM's facilities. This collaborative approach ensures cost-effectiveness and helps minimize risk, providing a greater return on investment.
Tequila & Spirits Mexico: Crafting Personalized 0 Proof Tequila Labels
Tequila and Spirits Mexico is establishing itself as a credible resource, providing insights, guidance, and the production processes of creating a 0 proof tequila label. Let's take a look at the TSM process in more detail:
Step 1: Personalized Product Customization
Make your mark with a 0 proof tequila that reflects your brand's personality. Dress your product in style from our extensive catalog of premium glass bottles, labels, and bottle caps. Your customization is not just a choice; it's an expression of your brand's uniqueness, executed impeccably by our experts, who have carefully curated the best packaging materials to meet global market expectations.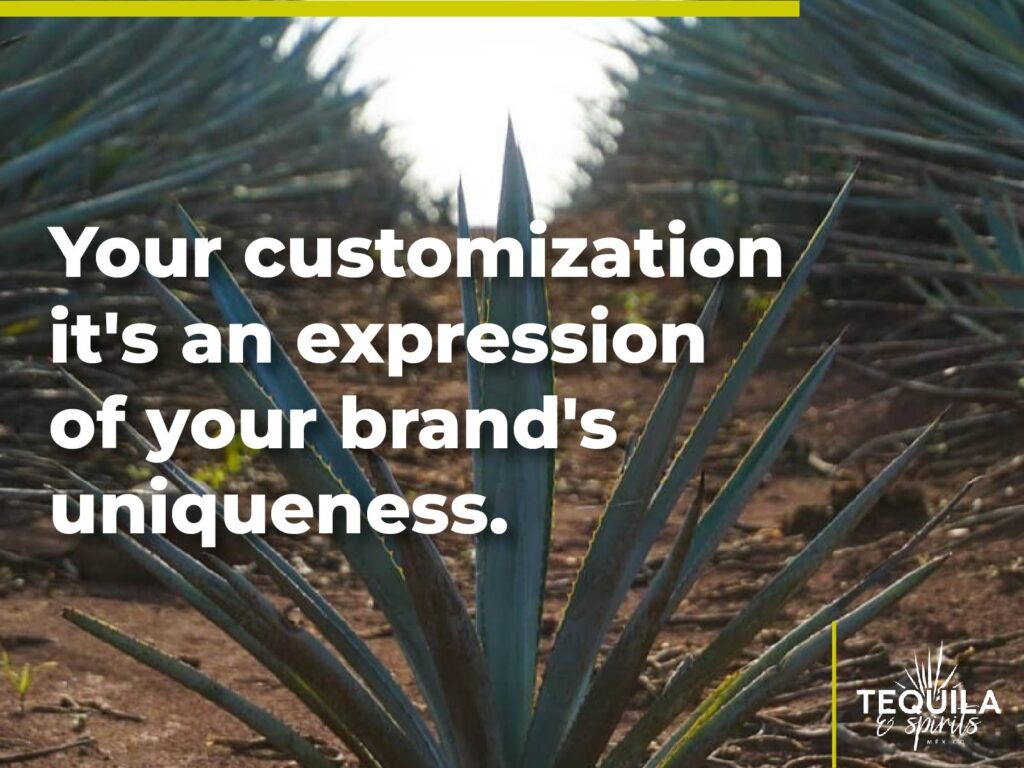 Step 2: Navigating Legal Requirements
We understand the importance of legality in the spirits industry. Tequila & Spirits Mexico takes care of the entire process, linking your brand to the protected denominations of origin for Tequila. Rest assured, your product will be supported by certificates of origin and official authorizations for worldwide export. We handle the legal intricacies so you can focus on what matters – your unique 0 proof tequila.
Step 3: Expert Production Facilities
Our Private Label Program provides you with state-of-the-art production facilities for your 0 proof tequila. Whether your brand is just starting out or already well-positioned in various industries, our personalized attention ensures that your product meets your specific needs. With expertise in the traditional Mexican spirits industry, we offer a great business opportunity tailored to your goals.
Step 4: Seamless Worldwide Delivery
Tequila & Spirits Mexico doesn't stop at production; our team is ready to guide you through the seamless shipping, export, and import of your 0 proof tequila. We make the process cost-effective, ensuring that your unique creation reaches its destination with the same care and attention to detail that went into crafting it.
Let your brand speak for itself with a premium, 0 proof tequila that highlights your unique signature. Take the next step in this exciting journey by getting in touch with us. Request a quote now and elevate your brand with Tequila & Spirits Mexico's Agave Spirits Private Label program.
One Last Call to Explore the 0 Proof Tequila Trend
Are you ready to dive into the world of crafting your own 0 proof tequila? Uncover the rich heritage and innovative approaches of Tequila and Spirits Mexico to unlock the secrets of crafting a non-alcoholic spirit that transcends expectations.
Join the movement, savor the flavors, and embark on a journey of crafting a beverage that reflects your individuality. With Tequila and Spirits Mexico, you can celebrate a future where your 0 proof tequila brand shines on the top shelf, personalized with your own preferences. An ultimate reflection of you and your brand.
Cheers to a journey as distinctive as your taste!