Creating a tequila brand can be complex and challenging for many entrepreneurs and company owners are interested in developing their own unique tequila brands. A little help from experts never hurts when making your own tequila brand. With the help of companies like Tequila & Spirits Mexico, navigating the best path to making your own tequila has never been easier.
Why Create Your Own Tequila Brand?
Tequila is a well-known liquor that has been consumed for generations. It is manufactured from the blue agave plant, which grows in Mexico's Jalisco area, creating a smooth and familiar flavor. With the tequila market expanding rapidly, many entrepreneurs and company owners are interested in developing their own unique tequila brands.
Creating your own tequila brand can be a rewarding and profitable endeavor, as it allows you to have complete control over your product's flavor profile, branding, and packaging. Additionally, the tequila industry is experiencing significant growth, making it an ideal time to enter the market.
According to a report by ResearchAndMarkets.com, the global tequila market size is expected to reach USD 14.35 billion in 2028 and register a revenue CAGR of 5.4% over the forecast period, according to the latest report. This statistic reflects the growing demand in areas such as the United States, the United Kingdom, and Europe. With a wide range of growth across various nations, the opportunity for entrepreneurs to create a unique and personalized tequila brand that appeals to a global audience is on the rise.
The degree of control you have when creating your own brand can ensure the tequila's quality is constant and matches your expectations. It also allows you to experiment with different taste profiles and production processes to produce a one-of-a-kind product that distinguishes your brand from competitors. Overall, creating your own tequila brand can also be a joyful and gratifying experience, since you get to witness your idea come to reality and share your enthusiasm with others.
The Challenges in Making Your Own Tequila Brand
Creating your tequila brand may be a thrilling and gratifying experience, but it is not without difficulties. For starters, finding a reputed distillery in Mexico that can create tequila to your requirements is one of the most difficult challenges. There are so many distilleries in Mexico, but only a few willing to produce brands that do not belong to them. It might be tough to find which one to entrust the reputation of your business to.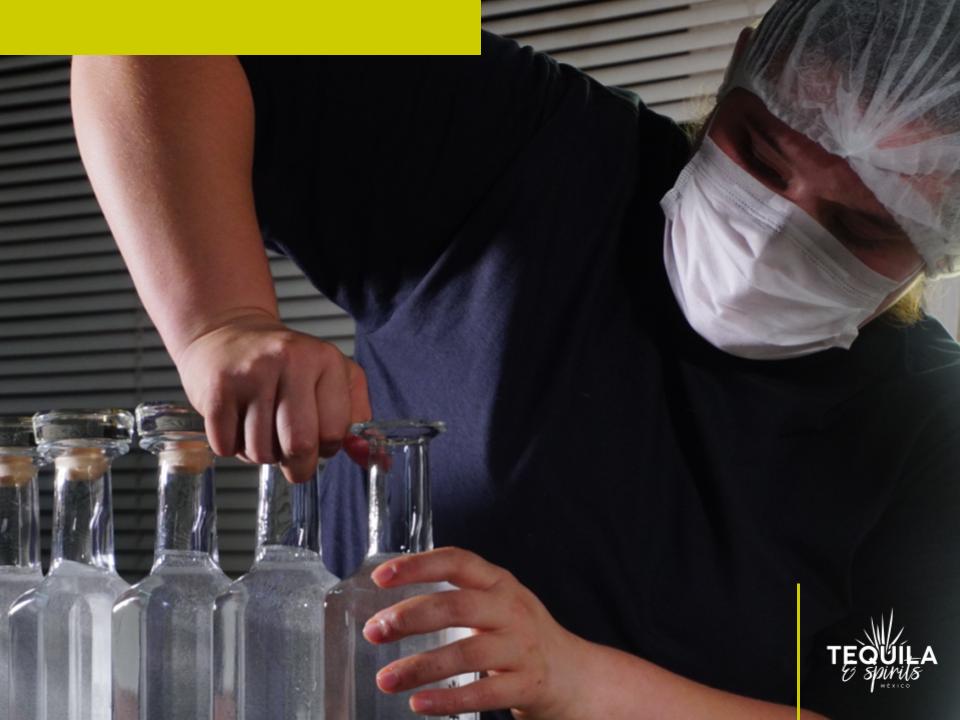 Once you've identified a distillery, you'll need to collaborate closely with them to ensure that your tequila meets your taste profile and quality expectations. This lengthy process may require continual communication and attention to detail.
Navigating Mexican rules and certificates is another barrier to starting your own tequila company. Before you can market and sell your tequila, you must meet a number of legal criteria, including acquiring a NOM (Norma Oficial Mexicana) certification, registering your brand with the Mexican government, and adhering to labeling and packaging rules.
The flavor and quality of tequila can vary greatly depending on the production technique and components utilized, making quality control a key difficulty in the tequila sector. Ensuring that your tequila fulfills your expectations on a continuous basis may be a tough undertaking, especially if you're new to the industry.
If you fail to overcome these obstacles, you could risk creating a failing tequila brand.
The solution?
Work alongside a reputable and knowledgeable company in tequila production. This can help ensure you create a quality brand that will be flying off the shelves and into the shot glasses in no time.
What Makes a Tequila Brand Good?
Creating a successful tequila brand entails more than just manufacturing a high-quality product. In today's competitive market, a brand's identity is critical to its success. An excellent tequila brand distinguishes itself from the competition by establishing a deep emotional connection with its clients.
A strong tequila brand should have a distinct and distinctive name and logo that expresses its identity and values. The name and logo should be pleasant to the eye and easily identifiable.
A good tequila brand must also have a clear and appealing brand narrative. The story should describe the company's origin, manufacturing method, and distinguishing traits, allowing people to connect with the brand on a personal level.
A solid tequila brand must also have a clear and unified brand identity across all touchpoints. This includes packaging, advertising, and social media, all contributing to a sense of trust and familiarity among customers.
Finally, a successful tequila brand must be committed to quality and sustainability. Consumers are becoming more environmentally sensitive; therefore, a company that values sustainable and ethical activities will appeal to them.
Read now: What defines a premium tequila?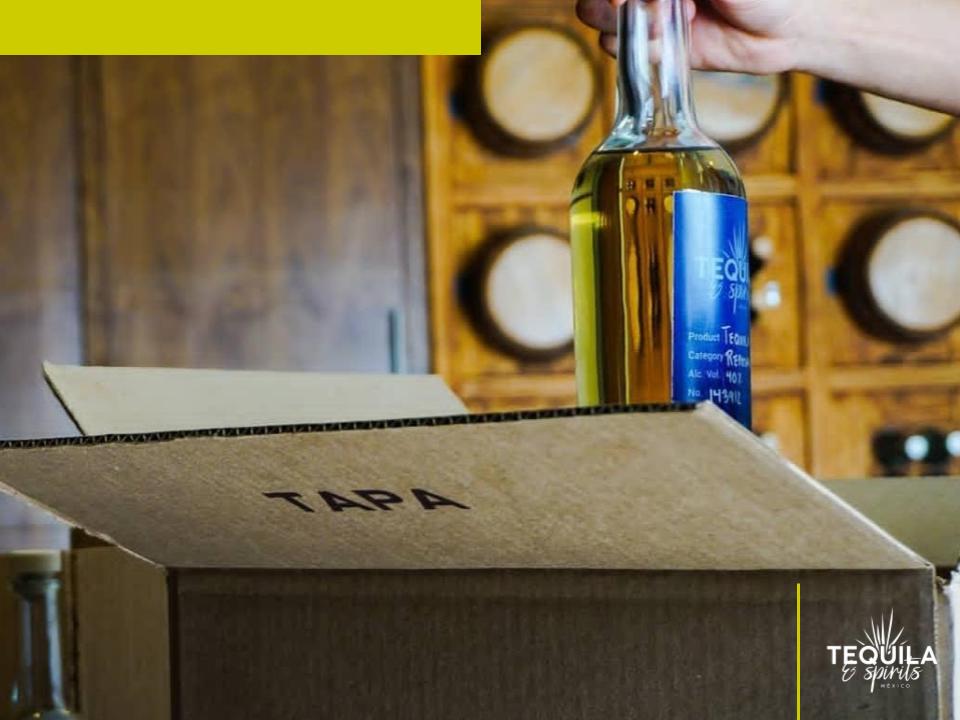 The Best Path to Making Your Own Tequila Brand
If you're thinking about launching your tequila brand, you might wonder where to start. With so many things to consider, it might be a difficult task. Tequila & Spirits Mexico can assist you with this. We provide a full-service partnership that covers all aspects of your brand's development and manufactures as tequila and mezcal industry specialists.
Our services include:
Trademark registration
Legal processes
Branding and package design
Bespoke taste profile
Supply chain management
Bottling, labeling, packaging
Export and import counseling
This implies that we handle everything from start to finish, leaving you to concentrate on other aspects of your business plan.
There are various advantages to working with a full service producer as Tequila & Spirits Mexico. To begin, our team has years of industry experience, and because we're situated in Mexico, we have direct access to all the tools you'll need to grow your brand. Furthermore, because we give personalized attention and tailored solutions, we will work with you at every step to ensure that your brand is distinct, innovative, and well-suited to your needs.
If you're ready to take the next step in building your tequila brand, collaborating with Tequila & Spirits Mexico will ensure to make the process as easy, quick, and stress-free as possible so that you, too, can get in on the rise of the tequila industry and start making a name for your brand today!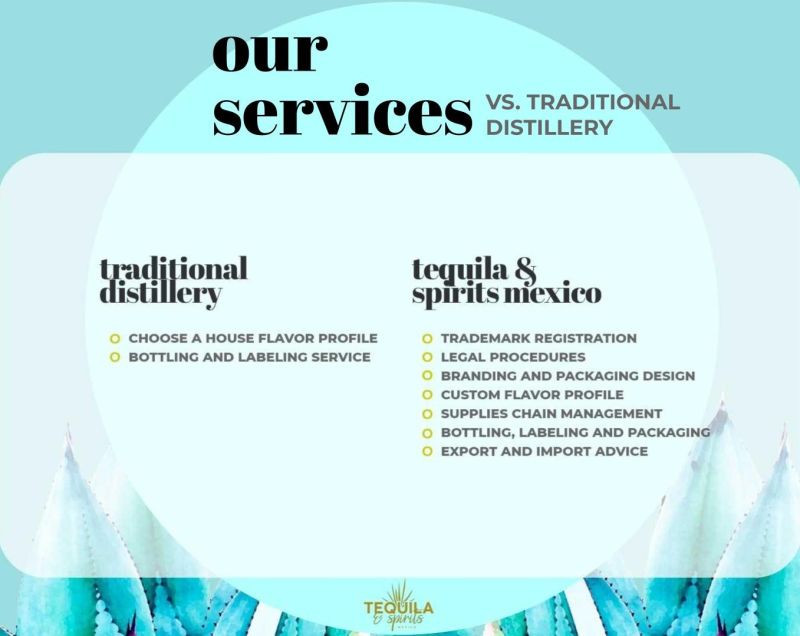 J. Romo