Looking for something new for your entrepreneurial journey? You can join one of the industries with the highest forecasted growth and one of the best business ideas 2023 and the coming years: the tequila business. Getting started with your own brand of tequila is within your reach, and we'll tell you how.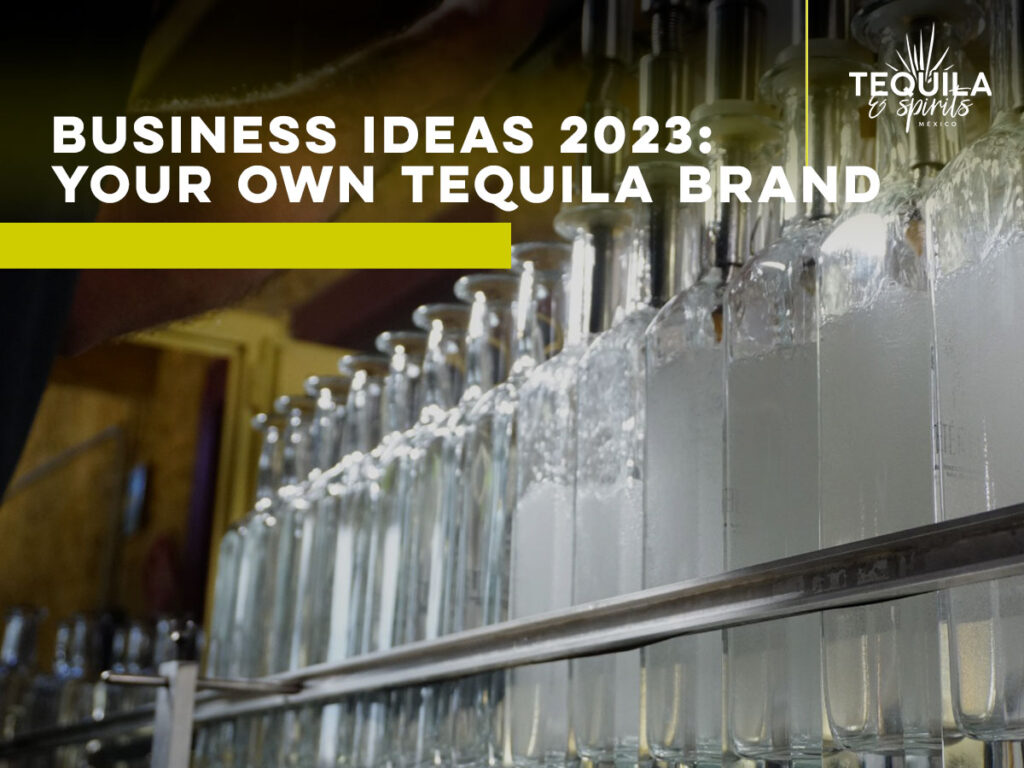 Although it is not a business that entrepreneurs usually have in mind, starting your own tequila brand is really within your reach. Furthermore, the agave spirits industry has the advantage of being a highly innovative business with infinite expansion opportunities.
Whether you are running a business in a different sector or thinking of starting your first company, a tequila brand is a great business to start in 2023 and could lead you to success in the near future.
Why tequila is one of the great business ideas for 2023
Tequila is in its golden age, and the numbers prove it.
The tequila industry has had exponential growth never seen before in the last decade, being one of the fastest-growing spirits categories and becoming one of the best business ideas 2023.
During 2022, tequila exceed American whiskey in value, becoming the second most valuable spirits category in the US. Moreover, tequila is set to overtake vodka in 2023, which would make it the biggest category by value, according to IWSR.
The total volume growth of spirits sales in 2022 was 2%, and agave spirits contributed with 70% of the overall volume at US$1.6 billion.
The global tequila market is expected to grow at a compound annual growth rate (CARG) of 6.6% between 2022 and 2031, reaching US $24.29 billion, according to Allied Market Research. 
2023 is a promising year for the tequila industry around the world! We are sure that by summertime tequila will be the new king of the spirits business. 
The time to get on board with this great business idea 2023 is now.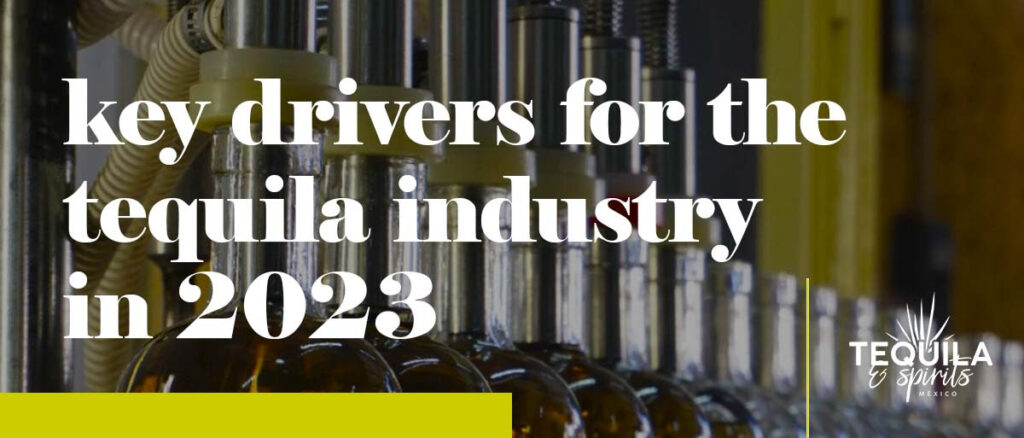 How to start in the tequila business
There are many ways to get involved in the lucrative business of tequila (as well as other spirits):
You could import or distribute existing tequila brands in your country; you could also have your own liquor store to sell tequila directly to consumers. But these options are both more related to the service sector, and that's not the aim of this post.
Alternatively, you can start a business directly in tequila production. For this, you will need to make a large investment to buy part of a distillery or create one from scratch. Your distillery must be located in Mexico. 
Now, let's talk about this path, which is completely within your reach. The most cost-effective way to get a big slice of the tequila industry profits is being the owner of a tequila brand.
Below, we will talk about the best way to create your own tequila. But first, let's see the profit margins that you can earn from one of the greatest business ideas 2023.
A business with great profit margin
Although there are many variants when calculating the profit margin from your own tequila brand, at Tequila & Spirits Mexico, we've made a generalized estimation of the profit percentages that a brand owner can earn.
When selling your product in retail or hospitality business such as hotels, restaurants, casinos, bars, and nightclubs, among others, you can obtain a profit margin between 19% to 78%!
We've obtained these average numbers from our experience producing brands for different countries and various target markets, from economy brands to premium brands.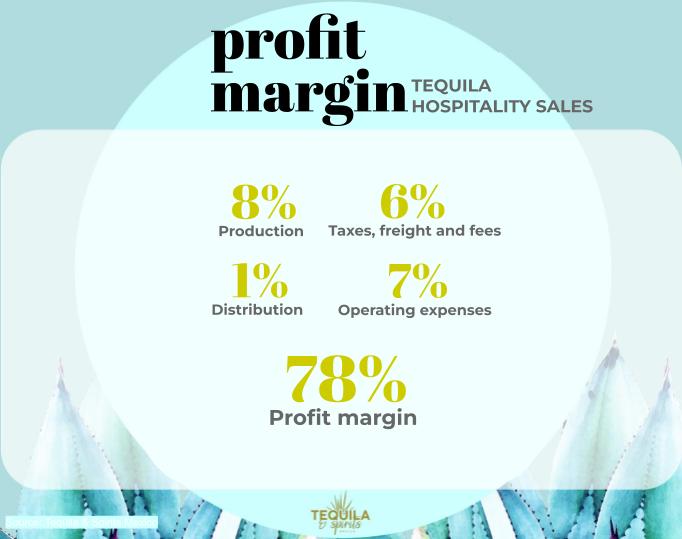 How to be a tequila brand owner
As a brand owner, you don't need to invest in all the facilities to develop and produce your own tequila. It's also not necessary to be the owner or shareholder of a tequila distillery.
Tequila is a spirit with a Denomination of Origin as property of the Mexican government, but there are ways for foreign brand owners to have their brands produced in Mexico:
First, you must register your brand, both with the trademark registration authorities in your country and with the Mexican ones. This way, you will have the legal rights to use the word «Tequila» for your product.
Then you have to sign a Linking Agreement with a Mexican distillery willing to produce a private brand of tequila. Basically, this is a contract between the brand owner and an authorized tequila producer.
Once you have completed the legal processes, you need to find all the supplies for your tequila: bottle, stopper, transportation boxes, labels, etc. It's possible that the distillery will not offer this service, since they will only be in charge of the bottling and packaging services.
When your product is ready at the distillery facilities, you must export it from Mexico and bring it into your country, going through the necessary customs procedures.
Maybe at this point you're feeling a little overwhelmed reading this process that seems not that easy, but here's the good news.
The best way to create my own tequila brand
There are companies dedicated to providing you with all the necessary solutions to create your own brand of tequila.
They are tequila private brands developers and manufacturers, companies that are not limited to just the packaging services of a distillery. They also do all the legal processes for you, as well as search for the best supplies for your product.
One of these companies is Tequila & Spirits Mexico, which works as a commercial partner in charge of all the affairs of the brand in Mexico. In this way, the brand owners have a permanent presence to carry out legal processes as well as handle the supply chain, maintain quality control, oversee financial transactions, etc.
The company's division that manages the tequila and mezcal Private Brand Program aims to support brand owners, entrepreneurs, and business people from all over the world with the development and production of their agave-based spirits brand.
With its Private Brand Program, the industry experts of Tequila & Spirits Mexico will even help you out with finding the perfect flavor profile to create an authentic premium tequila.
Moreover, they will guide you throughout the shipping and export process, connecting you with customs agents and transport companies, so that your tequila arrives to you.
Once your tequila is in your country, you can partner with a distributor who will take care of storage and logistics, so you don't even need to have a warehouse.
Creating a tequila private brand with Tequila & Spirits Mexico & Del Día Tequila
In summary
In summary, this is why creating your own tequila brand is on the top list of the great business ideas 2023:
You can avoid making a large investment in facilities to produce, export, and distribute your own tequila by finding the right suppliers.
Whether you're experienced or a beginner, by partnering with a complete solutions brand developer such as Tequila & Spirits Mexico, you will have the support of experts in the agave spirits industry.
Your main focus will be to create a great marketing and sales strategy that will boost your tequila brand as high as you want.
In the end, you own the most important thing in any business: the brand.
Talk to the experts
Get in touch with the experts of Tequila & Spirits Mexico and start creating your own Tequila Private Brand Now.